The Cooper Daybed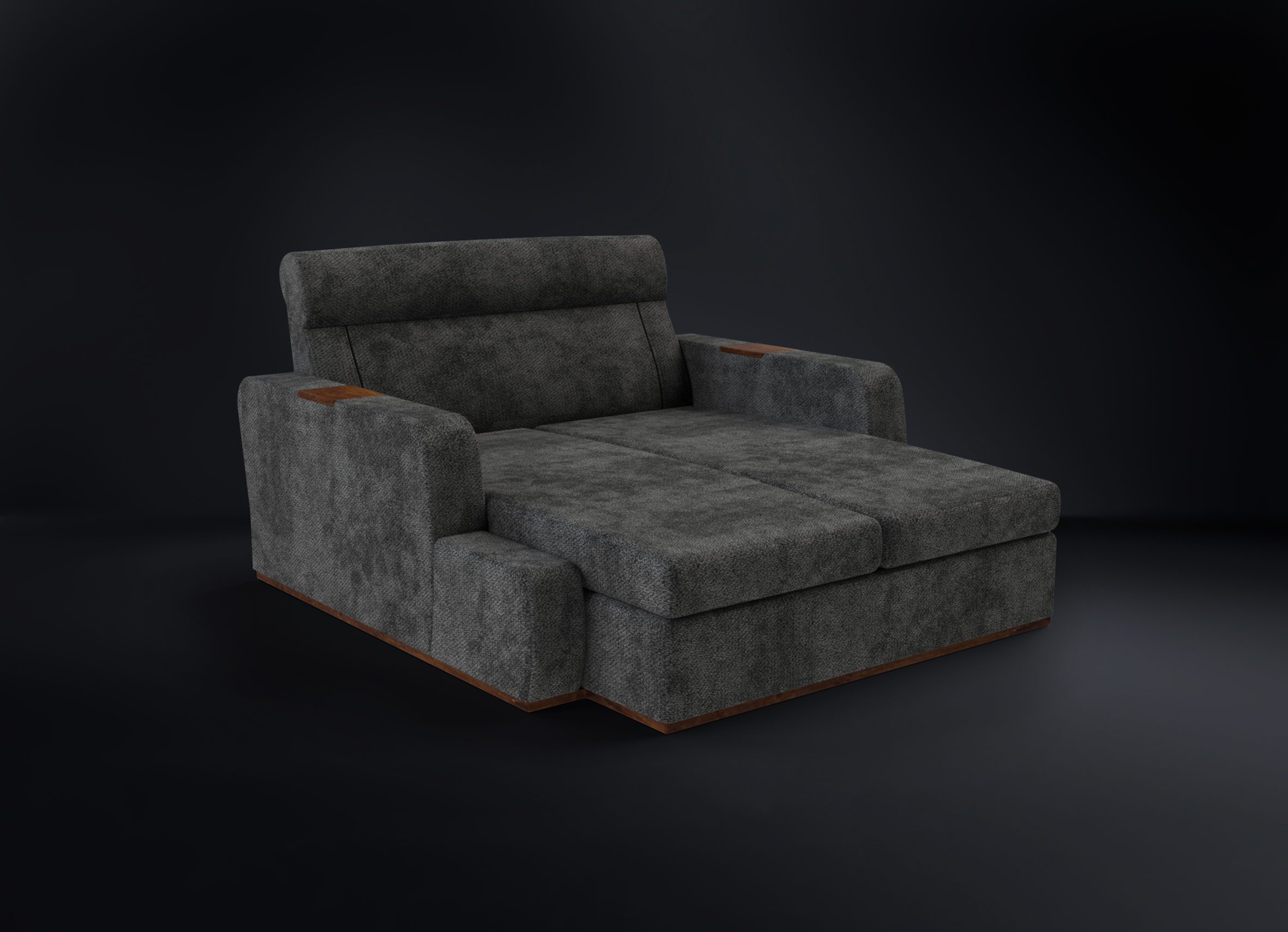 Cooper Daybed in grey velour fabric with Walnut inset tables and matching plinth.
The Cooper Daybeds are great fun.
They are also very popular with home cinema owners as you can jump on them with the kids and the dogs and chill out in front of your favourite film.
Daybeds are used as a multi audience option.
The Matinée – Families with their children watching the early showing when these sofas are sold as a 'set price' family ticket. Remember this when thinking you are losing too much capacity.
Then they become the 'Teens' seats for the early showings where friends all jump on together – again sold at a 'set price'.
During the early performances, the central bolster cushion can be removed.
Replace the bolster cushion and you have the 'Ultimate Couples Retreat'.
Cooper Daybeds work well in front-row areas of commercial cinemas. The height of the back will be tailored to fit the available sight lines of the rows behind.
Clients have reported improved ticket sales revenue uplift of 20-70% in otherwise difficult to sell front-rows!
Cooper Daybeds do not need a power supply, are unlikely to go wrong, need less servicing and maintenance than Recliner chairs and cost less per seat place.
Daybeds are made from the finest quality materials and will last for years. Built with solid FSC Beech hardwood frames and the best quality (CMHR) Fire Retardant foams available. Full 5-year Warranty.
Reversible seat cushions provide twice the amount of durability and we even provide complementary shoe bags for when patrons remove their footwear before diving in amongst the scatter cushions.
Very quick and easy to install.
We have an extensive range of extras and upgrades in a variety of colours. Materials available include fabrics, velours, velvets, micro velvets and the most amazing plant-based, cruelty-free leathers and suedes.
Get in touch to discuss your requirements. Call +44 (0)1702614444 today…