♥

The Sustainability Project

It had been the dream of the owners to one day come up with a Cinema seating product that was truly sustainable and cruelty free – that day has come. In fact, you will notice that we do not offer or promote animal products on any of our seating and have not done so for many years.

Check with your local Government to see what grants and funding may be available to help you finance such Green initiatives.

If you like the concept here, you can apply the 'Green Treatment' to any one of our products. You don't necessarily have to have a fabric made from 'Cork' either, as many of our standard faux leathers and velours have the right credentials and can be recycled.

We cannot promise that you'll find the right recycling facilities in your region but that is an ongoing mission for society to continually improve upon – we at least afford the opportunity for it to happen.

Fabric
A combination of the highest quality components in their respective fields. We have, for this example, used a collaboration of Cork fabric and Ultraleather to provide a unique stand-out look. Both suppliers have a great history of supplying fabrics worldwide and it is a pleasure that we have found a way to use both together in this environmentally friendly Sustainability example.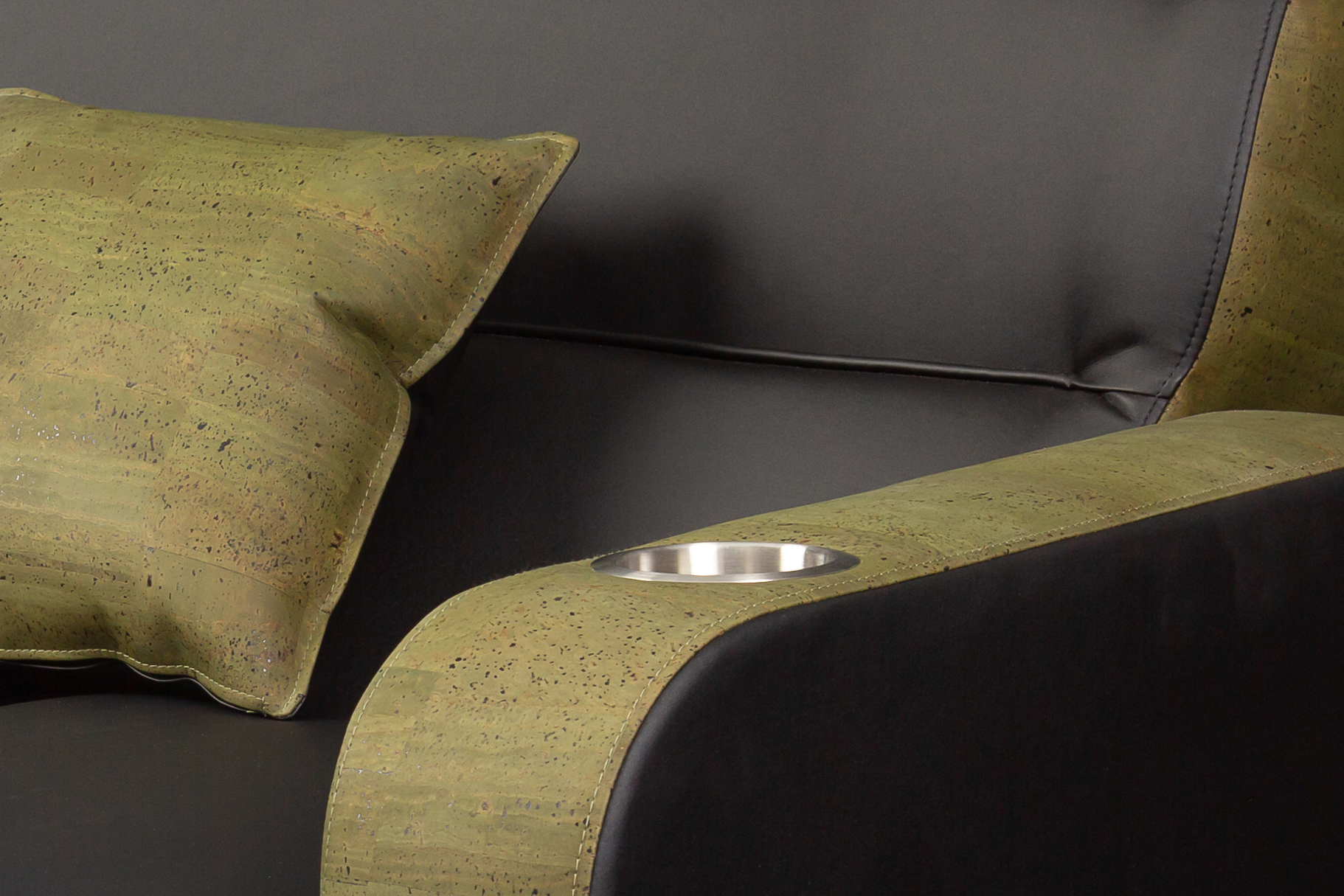 PureTree Cork Fabric
Flexible, colourful, and completely plant-based and cruelty-free, cork fabric is an eco-friendly sustainable alternative to animal leather and other commonly used fabrics. Harnessing the unique properties of cork, cork fabric – or cork leather as it is sometimes known – retains the natural beauty and tactile quality of raw cork while providing a durable surface suitable for both domestic and commercial applications.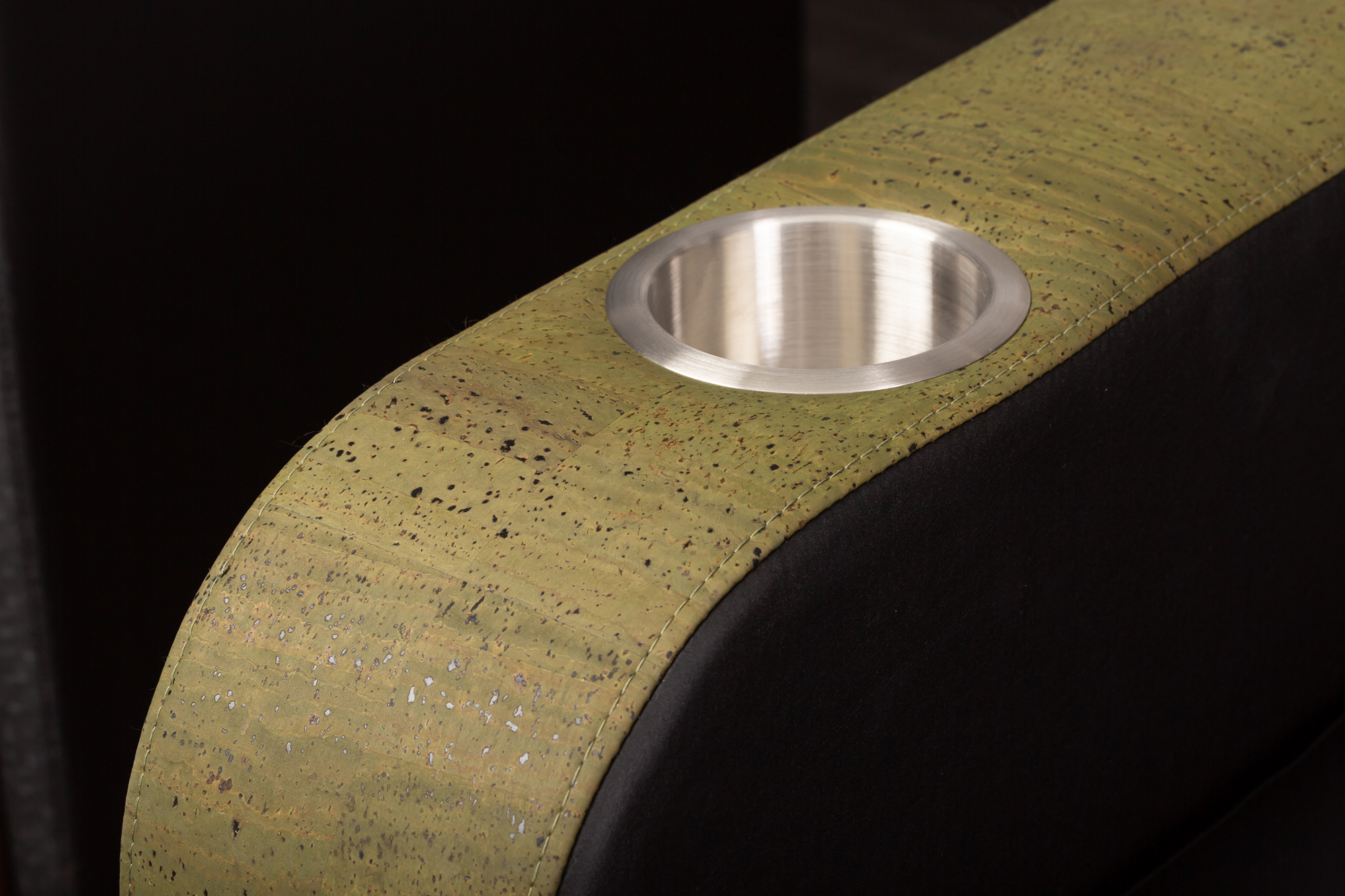 Ultra Fabrics
Ultraleather truly defines performance fabrics. There is a reason it sits comfortably atop the A-list across industries. Intelligent materials, meticulously designed with ultimate softness and durability, we created Ultraleather with the goal of changing expectations for what a performance fabric can be, do and feel like. We wanted to redefine the experience of leather. So, we elevated it: classic aesthetics, authentic softness, and always, naturally, animal-cruelty free. The result is a polyurethane portfolio that combines future-forward thinking with premium quality and timeless colour palettes.
Foams
The foams and cushioning utilised within our Sustainability Project are a mixture of densities in different areas of the seating. We have been able to incorporate recycled foams alongside Latex foams which produce the most breathable and comforting factors. Using Latex is not only a healthier and more hygienic bacteria resistant option. It also holds a natural fire retardancy due to the graphite within Latex which is a naturally flame retardant material conforming to Schedule 1, Part 1: The Furniture and Furnishings (Fire) (Safety) Regulation 1988 (amended 1989, 1993).
Frames
We had many different discussions and trials on what materials would work best when producing our first off design. We concluded that using EkoPly which is made up from recycled plastics would be the best solution.
EkoPly is a rot proof, sustainable, eco-friendly, and cost-effective alternative to non-renewable or prohibitive harvest time materials such as hardwood timber and plywood. With numerous application possibilities, it handles very similarly to timber yet requires little or no maintenance and is significantly longer lasting.
Extras
For the extras on this concept design we wanted to keep things at a minimum and not take away from the main achievement of producing a sustainable seating product.
We opted for a show-piece back strip made from cork tree bark.
Virgin decorative cork tree bark tiles is the answer to fashion and trend for pursuing the most natural, ecological, and environmentally friendly and, at the same time, unusual finishing materials. Natural and solid cork panels from raw cork oak are an original, designer and 100% natural and ecological product. Untainted, solid cork bark flats have been glued on a flat panel of agglomerated cork.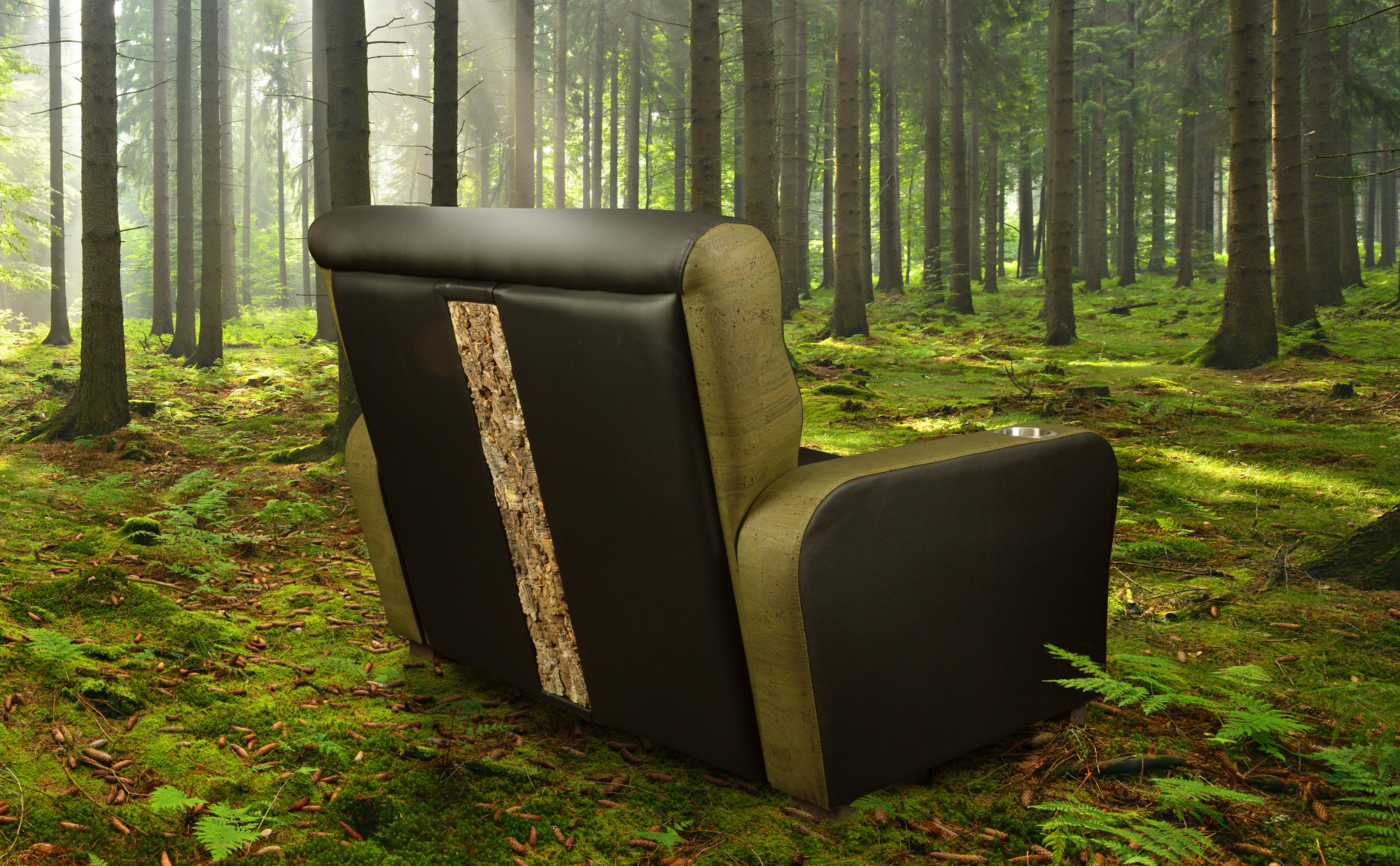 We have previously used Bamboo for Inset-Tables and Console units on bespoke projects, so if required we would be happy to incorporate this into a design specification. Bamboo has a harvest time of only 5 years compared to 50+ for many other popular hardwoods, making it truly sustainable.
This Bamboo Console unit is made from solid Bamboo that has been lacquered in a Walnut finish. You can of course have any colour you choose or use a clear lacquer and let the beauty of the natural product show through.

Crucially, no animals were harmed in the making of these products. Materials used can go on to be recycled and those that cannot are biodegradable.
Here's a great article on Vegan Leather:
https://immaculatevegan.com/blogs/magazine/leather-industry-greenwashing-debunked